Following the success of last year's Toptracer Burger & Beer Nights, we're running another one on Wednesday 25th January! (open to all)!
What's In Store?
2 time slots available to book on the driving range (17:45 - 19:15 OR 19:30 - 21:00)
1.5 hours in a bay (min 2, max 4 players)
Bays must be pre-booked
Price = £17.00/head which includes:
Unlimited balls
Use of Toptracer
Cheese Burger & Chips*
A small beer/cider/wine or soft drink
*Alternative food options available for those with dietary requirements
We expect this event to be extremely popular and bays will be given on a first come, first served basis. So, if you're interested in joining us, be sure to book your bay sooner rather than later!
How Can You Sign Up?
Simply pop in to see our team at reception, drop an email to golf@basset-down.com or call us on 01793 812336 (option 1). Payments will be required upon sign up to secure your place for the night. T&Cs apply (can be viewed below).
**T&Cs
The price is £17.00/head for this event, which cannot be used in conjunction with any vouchers or other offers
Payment will secure your place for this event, failure to do so may result in cancellation of your bay
Unlimited balls applies for your selected time slot only. Any balls left over once your slot has finished will be returned to the clubhouse
The price includes use of the Toptracer bay for the time slot booked, unlimited range balls during that time, a burger, chips with the option of fried onions or cheese and a small beer/cider/wine or soft drink only
Any drink upgrades must be paid for in full
Full refunds will be issued if the club cancels, moves or reschedules this event
Refunds will not be issued if you change your mind or if you realise you can no longer attend
If a member of your group is no longer able to attend, their place can be taken by another player
How can I practice with Toptracer?
Toptracer's different modes are suited for all ages and skill levels, meaning that your practice can be even more fun and meaningful. Compete against your friends in a long-drive competition, play some of the world's most famous courses or dive into advanced analytics to fine-tune your swing.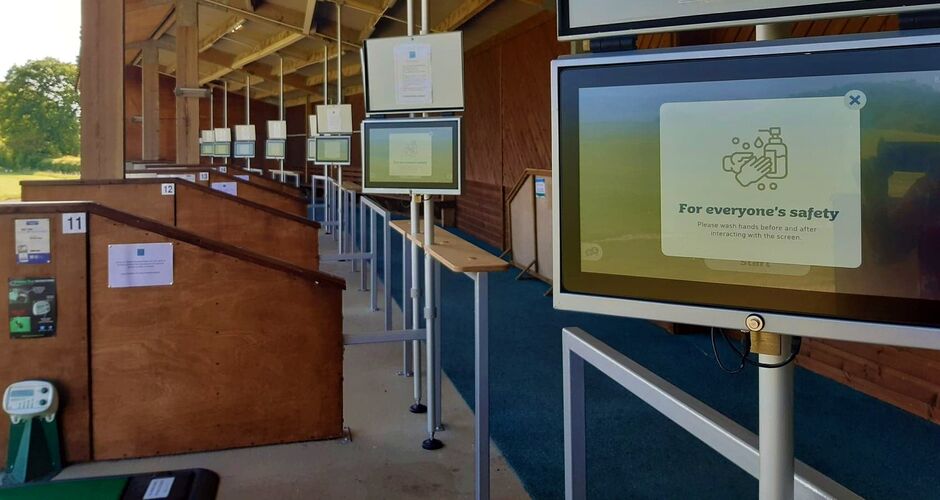 Driving Range last basket times
Monday - Thursday
08:00 - 20:00 (1 hour slot)
20:30 (30 min slot)
Range closes at 21:00
Friday - Sunday
08:00 - 18:00 (1 hour slot)
18:30 (30 min slot)
Range closes at 19:00
Booking is not required during the day, but we do recommend it after 17:00 or if you are a large group.
Call us on 01793 812336 if you would like to pre-book.
Driving Range Bay Prices
Prices include unlimited balls and use of Toptracer. If you haven't used if before, please let a member of our team know and we can run you through how it works. We also have a selection of clubs available to hire if you don't have your own (£2.00 for drivers, £1.00 for an iron).
| Time | 1 person per bay | 2 people sharing a bay |
| --- | --- | --- |
| 30 Minutes | £6.60 | £10.00 |
| 1 Hour | £10.00 | £15.00 |
| 1.5 Hours | £16.60 | £20.00 |
| 2 Hours | £20.00 | £25.00 |
Loyalty Card
If you're looking to use our driving range on a regular basis, then it might be worth you looking into our Driving Range Loyalty Card.
Simply complete an application form at reception and top your card up with one of the below installments. In return you will receive extra free credit varying from 15-30%. It really is that easy!
Loyalty Card Scheme (Visitors)
| Top Up Amount | % Free Credit | Extra Credit Received |
| --- | --- | --- |
| £30 | 15% | £4.50 |
| £60 | 20% | £12 |
| £100 | 25% | £25 |
| £500 | 30% | £150 |
Further discounts are available for BDGC Members.